JITSI MEET VIDEO is a video conferencing system installed on a private server with TLS-AES security and with an encryption certificate made by our technicians at 2048 bit, therefore a rather reliable system that makes difficult the penetration of third parties and above all carrying out only this function does not affect the security thanks to two levels of firewall (external and internal to the operating system) that guarantee a safe use
 GO TO THE COMMERCIAL OFFER 
Where the mainstream has failed due to issues related to privacy, the fact that many tend to want to listen, decipher and intercept our communications both in video calls and written, systems such as JITSI MEET VIDEO on private servers are taking off quickly and are continuously updated by international developers of the open source community, to ensure a legal but safe use of these communication platforms.
The registration to a Dropbox server has not been enabled directly from the server because of the fact that we would have had to compromise to open additional communication ports to the internet and we would have had to trust servers, although of quality, not of our installation and direct management.
When it comes to security, the SHADOIT CONSULTANCY GROUP LTD of Malta, the Italian S.H.A.D.O. GROUP srl and the American SHADOIT CONSULTANCY GROUP LLC, as part of a holding company created to develop and use the best IT security solutions, prefer to interact with each other only on platforms that they directly install and control, wanting to avoid any involvement of technicians outside the companies and under the direct control of their technical engineers who are experts in IT security.
JITSI MEET VIDEO is one of the most popular alternatives to Zoom and various feedbacks from Jitsi users have explicitly stated that by installing it on private GNU/Linux server, additional security can be implemented and more control over online communications can be gained.

Why JITSI MEET VIDEO ?
First of all because it does NOT require registration, you create the link, share it and go (totally anonymous).
JITSI MEET VIDEO is an encrypted system and has many additional features besides that it can be downloaded and installed as an app for your cell phones, while from a computer, it can be simply used with a browser like Google Chrome by opening an internet page of our reference and linked to our private server.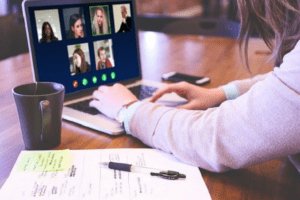 All communication rooms JITSI MEET VIDEO can also be used for webinars not too numerous and therefore we always recommend not more than 30 people, this is because the sum of the rooms enabled by us and the users, we do not want to put under stress, not so much the network that we use because it is sufficient for a thousand simultaneous users, but the equipment that we have dedicated, wanting and being able to ensure stable and secure communications for all.
Each room JITSI MEET VIDEO has its own password for the manager, which allows reliable communications by preventing access to those who have not been invited to the videoconference.
With JITSI MEET VIDEO, you will be able to deal with confidential business, you will be able to write live, you will be able to share your computer screens, you will be able to talk about everything with the peace of mind of not being intercepted, securing even your most confidential financial negotiations.
For those who will use the JITSI MEET VIDEO platform we have a couple of important tips to give you:
First: get a pair of headphones or a microphone (better headphones with microphone) whether you use your cell phone or your computer.
Second: when you listen and do not speak, mute the microphone: others will not hear the background noise of your room because often automatic systems increase the sensitivity of the microphone when no one is talking, so that on the other side of the conference are perceived sounds that are almost imperceptible to you.
Last but not least, pay attention to how you dress, and especially what is behind you.
COMMERCIAL OFFER
The system JITSI MEET VIDEO can also be installed on your own server operating remotely but you will have to respect the minimum hardware requirements such as 8 Giga Ram, microprocessor XEON 4 Core or I7, minimum 64 Giga SSD disk and internet line with STATIC IP required to be able to bind a DNS record of your domain without having to force you to write an IP address, all this in order to allow you to always allow maximum performance in any workload situation.
For costs click on CONTACT US and explain clearly your needs
WE INVITE YOU TO TAKE CONTACT FOR THE RESERVATION OF THE DAY FOR YOUR VIDEO CONFERENCE