Web statistics and their fundamental importance show that they are too undervalued for those who need to monitor their marketing
Web statistics have been for too long underestimated when the vision of the internet as a media for communication and interaction between men, companies and processes has become known, has revolutionized: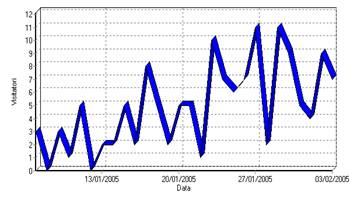 - communication techniques
- the usability of the services and information made available online
- the approach in general to the market.
An increasing number of companies view the website as a relationship tool with the rest of the world, with their customers or with their suppliers.
Others, even, live and have based their core-business around the production and maintenance of websites.
For good or for worse, for a company that has invested in an internet project, it will sooner or later engage in important business functions and without the statistics that will give it a clear view, not managers and business managers will not be in ability to evaluate investments.
First, they will be involved in marketing, commercial, development, production and also (indeed surely) leadership.
All of these will have to contribute, as is normal, to the project on strategy identification and planning, action monitoring, choices and ROI evaluation. (Indicates return on profits from a given investment) .
It is therefore important to have an immediate evaluation of the productivity and functioning of the website. Indispensable is also to get a clear perception on the return that the internet project is getting in terms of:
- correct positioning compared to the target that the project has set.
- visibility and share on the market,
- brand benefits
- opening of informational and interactive channels alternative to classics (information, communication, marketing, distribution, representation).
- Increase in sales and revenue
- Improving the efficiency of the business process behind the site (the so-called backoffice) and the effectiveness of the chosen strategies.
It is also natural to ask yourself and wonder how the visitor, the user of services and information behaves, how many times can you count in terms of presence, how many times it is back, what pages are you seeing, what used them, how it came to our site and how, how much time is left, what keywords they used to find us on search engines, how many customers are considered as new and how regular and loyal they are, what are the routes most used or what is less, what is the type of browser used on average, how they see (at what resolution they display our information - 640 * 480 / 800 * 600 / 1024 * 768, and with what color depth they perceive our message / image - 16 colors, 256, 64.000, 16 million).
How many times an entrepreneur after having conducted a traditional advertising campaign (television, billboards, etc) where the name of his domain was visible at the bottom, he wondered whether it was good if people noticed his message if the investment tediously was being made fruit?
YOU CAN KNOW MORE
Surely with web statistics you can know so much more, but it is good to ask ethically if it is permissible, if it is allowed, whether it is right and proper for its customers without them knowing and consenting.
There are ways, for example, to access Intranet sections or parts that are protected and confidential in the face of providing detailed information directly from the customer / navigator (name, surname, home, age, sex, taste, preferences). These data may be crossed with statistical site access data as well as with data collected through the classic channels.
Of course, the behavioral profile of a client / navigator / virtual is slightly different from the classic / real client.
The two kinds of customer act differently, they try and perceive the product differently, they take advantage of the pre and post sales services in a different way, their degree and way of fidelity will manifest differently.
And that is why the data collection on your site will be increasingly important over time thanks to web statistics. Knowing your customer / navigator, tracing it, studying it, will enable the company that is investing online to improve its communication and its interaction with the market continuously.
SHADOIT BUSINESS CONSULTANCY Ltd has the ability to provide and process statistics on e-mail flows, ftp streams and web portal flows, even though it does not exist on systems allocated to our facilities.
Our consultants are at your disposal, if you are seriously concerned, do not think about us and contact us.