MEDICAL GLOVES

  
l Medical Gloves o Guanti medicali (o guanto a uso medico, o guanto chirurgico) sono un tipo di guanto di gomma monouso utilizzato durante gli esami e le procedure sanitarie per aiutare a prevenire la contaminazione incrociata tra operatori sanitari e pazienti.
Medical Gloves – Payment terms and prices FOB :
1 – Skymed accept Stand-by Bank Letter of Credit. 
2- T-Union 20% TT   80% Bank Letter of Credit 
3- Omak. 100% Bank Letter of Credit 
4 -Anny gloves 10% TT    90% Bank Letter of Credit 
Medical Gloves – Delivery and monthly capacity production reserved to us   
Boxes of 100 gloves
1 – Skymed 20M /month
2- T-Union 30M / month
3- Omak. 15 – 20M / month
4 -Anny gloves 10-20 M / month
Medical Gloves –

SOP FOR ORDERING
1) LOI + POF/BCL FROM BUYER
2) SELLER ISSUES FCO
3) BUYER SIGNES FCO & PO
4) SPA FROM SELLER
5) SHARING CERTIFICATES FROM SELLER
6) SIGNED SPA FROM BUYER
7) PI FROM SELLER
8) LC/ESCROW/ TT PAPERS FROM BUYER
9) SGS INSPECTION APPROVAL CERTIFICATE
10) BUYER RELEASES LC/ESCROW/TT
11) SELLER RELEASES THE GOODS
Potential buyers:Â  government level or private companies
Legend
SOP = Standard Operating Procedure
FCO = Full Corporate Offer
LOI = Letter of Intent
PO = Purchase Order
SPA = Sales and Purchase Agreement
PI = Proforma Invoice
LC = Letter of Credit
TT = Bank transfer (telegraphic transfer, [T/T])
MOQ 5 milion nitrile Medical Gloves boxes
DESCRIZIONE PRODOTTO MEDICAL GLOVES
I Medical Gloves o guanti medicali sono un elemento essenziale per tutti gli operatori che lavorano in ambiente sanitario, i guanti non solo proteggono chi li indossa, ma creano anche una zona di sicurezza sia per gli operatori sanitari che per i pazienti e rendono il settore più sicuro e più facile per lavorarci.
Tutti i Medical Gloves sono monouso e sono disponibili in una varietà di materiali diversi, come il lattice, la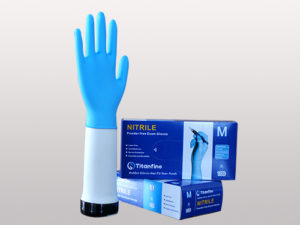 gomma di nitrile, il vinile e il neoprene.
Alcuni Medical Gloves sono forniti con polvere di amido di mais che aiuta a lubrificare il guanto e rende più facile metterlo sulla mano e toglierlo.
Poiché anche un composto naturale come l'amido di mais può causare problemi con la guarigione delle ferite sulle mani, molti professionisti della sanità  si stanno rivolgendo a preferire Medical Gloves non in polvere e il nitrile è diventato particolarmente popolare in quanto non provoca reazioni allergiche come potrebbe fare il lattice.
Infine, c'è anche il dibattito finale sulle preferenze rispetto ai Medical Gloves lisci o testurizzati.
Mentre i guanti testurizzati rendono più facile la presa degli oggetti, spetta a ciascuno di noi decidere quale tipo di superficie di guanto ritiene che funzioni meglio nel proprio settore.
I Medical Gloves da visita possono essere sterili o non sterili e vengono utilizzati per le attività  quotidiane come l'esame dei pazienti e la manipolazione di materiali sensibili.
Alcune delle caratteristiche importanti dei Medical Gloves sono le seguenti:
Un Medical Glove è molto più di un semplice guanto ordinario.
Esso agisce come uno scudo della mano e del corpo e crea una barriera sulla pelle che protegge chi lo indossa da agenti patogeni e contaminanti dannosi.
Poiché i Medical Gloves sono a tenuta di pelle e fabbricati con processi specializzati, mantengono la presa e la sensibilità al tatto della mano a differenza di qualsiasi altro tipo di guanto disponibile.
Questo permette ai professionisti del settore medico di eseguire anche i compiti più delicati con precisione e facilità .
I Medical Gloves non solo sono impermeabili, ma offrono anche buoni livelli di resistenza alla maggior parte delle sostanze chimiche, fornendo così una protezione ancora maggiore.
A causa del diverso spessore e del design di produzione dei diversi tipi di Medical Gloves, alcuni modelli offriranno anche una discreta resistenza agli oggetti taglienti e saranno difficili da perforare o tagliare, proteggendo così chi li indossa da ferite da aghi e altre ferite da penetrazione da taglio.
Molti professionisti della sanità  scelgono anche il "doppio guanto", cioè di indossare due paia di Medical Gloves sopra a ciascuno per minimizzare ulteriormente gli incidenti di penetrazione.
Si tratta di veri e propri dispositivi per tutti i tipi di virus e batteri che ci permettono la massima protezione con questo usa e getta.
CLICK ON IMAGE TO DOWNLOAD BROCHURES OF OUR BRANDS