MEDICAL GLOVESÂ 
Medical Gloves – Payment terms and prices FOB :
1 – Skymed accept Stand-by Bank Letter of Credit.
2- T-Union 20% TTÂ  Â 80% Bank Letter of Credit
3- Omak. 100% Bank Letter of Credit
4 -Anny gloves 10% TTÂ  Â  90% Bank Letter of Credit
Medical Gloves – Delivery and monthly capacity production reserved to us   
Boxes of 100 gloves
1 – Skymed 20M /month
2- T-Union 30M / month
3- Omak. 15 – 20M / month
4 -Anny gloves 10-20 M / month
Medical Gloves – SOP FOR ORDERING
1) LOI + POF/BCL FROM BUYER
2) SELLER ISSUES FCO
3) BUYER SIGNES FCO & PO
4) SPA FROM SELLER
5) SHARING CERTIFICATES FROM SELLER
6) SIGNED SPA FROM BUYER
7) PI FROM SELLER
8) LC/ESCROW/ TT PAPERS FROM BUYER
9) SGS INSPECTION APPROVAL CERTIFICATE
10) BUYER RELEASES LC/ESCROW/TT
11) SELLER RELEASES THE GOODS
Potential buyers:Â  government level or private companies
Legend
SOP = Standard Operating Procedure
FCO = Full Corporate Offer
LOI = Letter of Intent
PO = Purchase Order
SPA = Sales and Purchase Agreement
PI = Proforma Invoice
LC = Letter of Credit
TT = Bank transfer (telegraphic transfer, [T/T])
MOQ 5 milion nitrile Medical Gloves boxes
PRODUCT DESCRIPTION MEDICAL GLOVES
Medical gloves are an essential everyday item for all healthcare professionals working in a healthcare environment, gloves not only protect the wearer but they also create a safety zone for both healthcare providers and patients and makes the industry safer and easier to work in.
All medical gloves are disposable, single-use items and they are available in a variety of different materials, such as Latex, Nitrile Rubber, Vinyl, and Neoprene.
Some medical gloves come powdered with cornstarch which helps lubricate the glove and makes it easier to put it on the hand and take it off.
Because even a natural compound such as cornstarch can cause problems with healing injuries on the hands, many healthcare professionals are turning to preferring unpowdered medical gloves and Nitrile has become particularly popular as it is doesn't cause any allergic reactions the way Latex might.
Then lastly there is also the final preference debate over smooth medical gloves vs. textured.
While textured gloves make it easier to grip objects it us up to each individual to decide what kind of glove surface they feel works best in their industry.
Exam medical gloves can be either sterile or non-sterile and are used for everyday tasks such as examining patients and handling sensitive materials.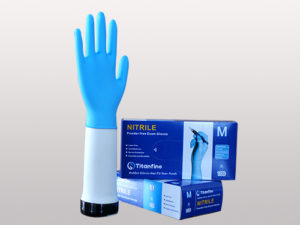 Some of important features of medical gloves are as follows:
A medical glove is much more than just an ordinary glove.
It acts as a shield of the hand and body and creates a barrier over the skin which will protect the wearer from harmful pathogens and contaminants.
Because medical gloves are skin-tight and manufactured using specialized processes, they retain grip and touch sensitivity of the hand unlike any other type of glove available.
This allows medical professionals to perform even the most delicate of tasks with precision and ease.
Medical gloves are not only waterproof but also offer good levels of resistance to most chemical substances, thus providing even further protection.
Because of the varying thickness and production design of the different types of medical gloves, some models will also offer decent resistance to sharp objects and will be difficult to pierce or cut, thus protecting its wearer from needlestick injury and other sharps penetration injuries.
Many healthcare professionals also choose to "double-glove", that is; to wear two pairs of gloves on top of each to minimize penetration accidents even further.
These are real devices for all types of viruses and bacteria that allow us maximum protection with this disposable.
CLICK ON IMAGE TO DOWNLOAD BROCHURES OF OUR BRANDS